ایستگاه سیزدهم: سفر کردن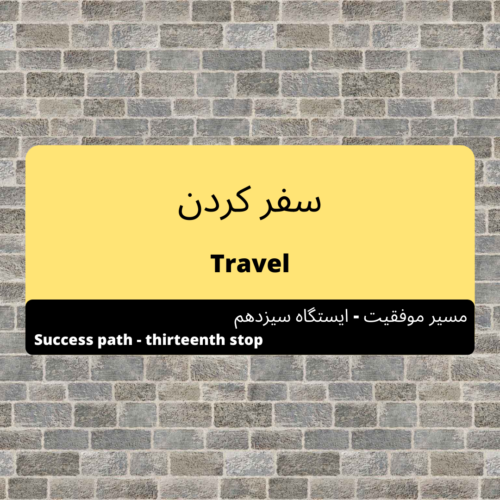 در این ایستگاه به بررسی لغات و اصطلاحات مربوط به برنامه ریزی و شروع یک سفر می‌پردازیم. بعد از اتمام این اپیزود می‌تونیم به راحتی در مورد سفر کردن صحبت کنیم.
مکالمات این اپیزود از سایت eslfast استخراج شده است.
در ادامه متن انگلیسی تمامی لغات و اصطلاحات بکار رفته در این اپیزود آمده است.
بخش اول
Travel – Trip – Journey – Voyage – Excursion – Wanderlust – Solivagant – Set out/Set off – Resfeber – Onism – Trouvaille – Tourist trap – Guided tour – Package Holiday – Busman's holiday
مکالمه اول
A: Where should we go sightseeing today?

B: I think that some things might be best done in the morning and others in the afternoon.

A: I think that I would like to go to the beach this morning.

B: That would be a good place to start our sightseeing. We could have breakfast there.

A: I hear that there is a very nice natural history museum there.

B: Yes, it would be nice to check that out since we are so close by.

A: Where should we go in the afternoon?

B: I think that I would like to go to the amusement park. It's supposed to be quite good.

A: At the end of the day, I would love to take in the sunset at the restaurant by the park.

B: That sounds like a great idea! Let's go get a map.
بخش دوم
Sight/View – Weekend break/City break – Affordable travel/destination – Road trip – Have itchy feet – Live out of a suitcase – Thirst for adventure – To get away from it all – Hit the road – At the crack of the dawn – Off the beaten track – To find a gem – Every nook and cranny – To live it up – Break the journey – Feel homesick
مکالمه دوم
A: Let's stop and look at the souvenirs at the souvenir stand.

B: What types of souvenirs were you looking for?

A: When I travel, I usually like to bring back a special necklace or clothing.

B: I end up buying a lot of stuff for the kids in my family. Do you like to do that, too?

A: My family loves for me to take trips so they can get the goodies I bring them.

B: What types of things do they like?

A: The little kids like little trinkets, like those little shell animals over there.

B: I feel like this stuff is kind of overpriced.

A: Some souvenir stands charge more than others, so it pays to shop around.

B: Why don't we try checking prices a little farther away from the tourist section?
بخش سوم
Breathtaking – Sensational – Memorable – Pleasant – Jaw dropping – Spectacular – Travel on – Travel with – Go camping – Route – Port – Souvenir – Craft markets – Long-haul Destination – Pack light – Go away – Pull in – See off – Accommodation – Out of season – Picturesque village – Itinerary – Let's call it a day