ایستگاه پانزدهم: آرزوی‌های سال جدید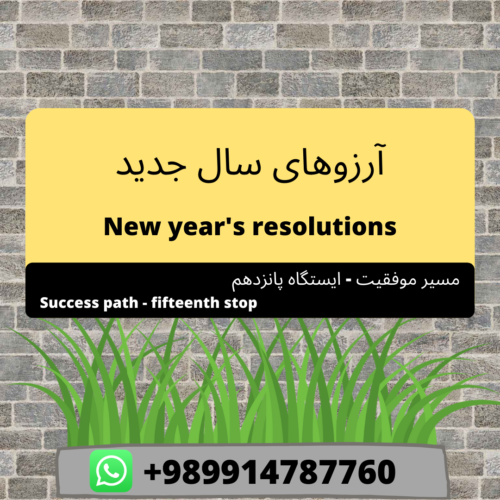 پس از پایان این قسمت به راحتی میتونیم راجع به آرزوها و خواسته‌هامون در سال جدید صحبت کنیم. فایل صوتی این اپیزود از سریال friends گرفته شده است.
بخش اول
Happy Nowrooz
We're kicking off a new year.
We stick to our habits.
We sometimes jump on the bandwagon.
We're back to square one.
New year's resolutions
It sounds like a broken record.
Let's make a memorable year.
I know all of you are going places.
We must be a real eager-beaver.
Don't reach for the moon at first. No pain, no gain.
مکالمه اول
Gregory: Hey Gab, can you lend me $10? The new game is out today. I really want to get it.
Gab: Didn't you just get a new game last week?
Gregory: Yeah, but everyone's getting this new game and it's supposed to be awesome.
Gab: You don't have to jump on the bandwagon all the time. Didn't I tell you to start saving your money instead of spending it all on games?
Gregory: You're starting to sound like a broken record. I promise to start tightening my belt after I get this game and pay you back.
Gab: I hope you'll stick to your promise and turn over a new leaf.
Gregory: Oh wait … they're launching a new game next week!
Gab: Looks like you're back to square one.
بخش دوم
Let's get the ball rolling.
We all have our ambitions.
To kick a habit
To turn over a new leaf
As we're ringing in the new year.
We must hang in there.
Our efforts will start to bear fruit.
When there is a will, there is a way.
مکالمه دوم
– I'm gonna go out on a limb and say "No divorces in '99!"
– But your divorce isn't final yet.
– Just the one divorce in '99! I am gonna be happy this year. I am gonna make myself happy.
– Do you want us to leave the room?
– Every day I am gonna do one thing I have never done before. That is my New Year's resolution.
– That's a good one! Mine is to pilot a commercial jet.
– Now you only have to find a planeload of people … whose resolution is to plummet to their deaths.
– Maybe your resolution should be not to make fun of your friends. Especially the ones who might fly you to Europe for free.
– She has a better chance of flying up your nose … than you do of not making fun of us.
– I'll bet $50 you can't go the year without making fun of us. Better yet, a week.
– I'll take that bet, my friend. Paying me the $50 can be… the "new thing you do" that day.
– And it starts right now!
– My New Year's resolution is to learn how to play guitar.
– Really? How come?
– You know those special skills I have listed on my resume? I would love it if one of those was true.
– Want me to teach you? I'm a great teacher.
– Really? Who have you taught?
– Well, I taught me. And I loved me.
– That'd be great! Yeah, thanks, Phoebe.
بخش سوم
Improve ourselves
Save money
Get a better job
Start a new business
Figure out how to start an online business
Enjoy life more
Be more patient
Be more confident
Be more social
Go green
Balance work and family
Make more friends
Work smarter
Tighten our belt
Help others